Sell Popcorn This Week and Earn a Set of Binoculars!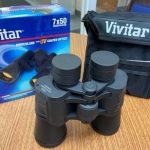 We want you to make an Online Direct sale before next Friday, October 23rd and earn a set of  binoculars! Many of you are doing a great job, but a lot of our Scouts that have sold in the past have not made a sale yet this year. Online Direct continues to be the safest way to sell and all you need to do is update your Trails End account and send it out to your family and friends! Make one sale this week and earn these Binoculars!
We will have binoculars for those scouts that earned them at the Scout Service Center located at 415 N. 2nd Street in St. Charles starting Monday, October 26th.  Thank you and happy selling!
Log in to your account at Trails-End.com to get started!
Super Saturday is the only time you can return unsold popcorn up to 10% of your total popcorn ordered.   
Prior to Super Saturday SUBMIT your units FINAL POPCORN ORDER and PRIZE ORDER online for approval. 
Please plan to pick up popcorn that is needed to complete your sale. We will place the product for pick up into the  SUPER SATURDAY ORDER online and subtract it from your submitted FINAL ORDER in the sell.trails-end.com system. 
If your entire order is not available, we will fill as much of it as possible. This helps keep storage costs down, your profits up, and gives you more time to deliver your product and collect the money! Any product not available on Super Saturday will be distributed on November 17th.   
Reminders: 
Transfer Deadline is Friday, Oct. 26




- This is the last day to transfer popcorn between units. All transfers need to be completed with

in Trails-End.com. 

 
Online sales continue!




- You will still receive commission for all online sales through the end of the year!

 
Location:  Midwest Warehouse/Jel-Sert – 2380 Diehl Road, Aurora, IL 60502 
Time:  To help speed up the process and better ensure we have your needed product, 
7

:30

 a.m. to 8:30 a.m.      Units returning product only

 

8:30 a.m. to 1

1

 

a

.m.      

    

Units returning and picking up product

 

1

1

 

a

.m. to 

11:30 a.m

.        Units picking up product only (includes Take Order Only units)

 
We have many forms due on Saturday. Use the checklist included in your Kernel Guide, it is a great tool to make sure you have all your paperwork.  
What you will need:  
Settlement Form

 

- Using the invoice data from the sell.trails-end.com system use the form to calculate the totals for checks due to the Council.

 

Two checks

, one for the pre-order (dated 11/

7

) and one for the final order (dated 12/5)

 

$1,

00

0 Sellers Form

 - Click here to submit your 

$1

,000

 Sellers

 online.

 
No Popcorn to Return 
If your unit has no popcorn to return and is participating in Home Delivery for your final order or wants to pick up the whole order on November 18th, you may opt out of Super. If we aren't attending Super Saturday, we ask you to drop off all your paperwork and payments at the Scout office (415 N 2nd St, St Charles 60174) between 10 a.m. - 1 p.m. on November 6th. No popcorn will be received or distributed at this location. Please email TFCPopcorn@scouting.org, that you wish to do this.  
 Toy Drive 
As in past years, the Three Fires Council Popcorn Committee will once again be supporting the Community Gift Mart Toy Drive. Run by the Community Christian Church. Super Saturday will be a collection point. Please bring a new and unwrapped toys to donate to this worthy cause. The Gift Mart will support over 1,500 families in East Aurora, Naperville and Joliet. 
Questions? 
Allan Boyce | Council Popcorn Kernel                              Ron Wentzell | Director of Field Services 
scouts.boycefive@att.net                                                    ron.wentzell@scouting.org