Sell Popcorn This Week and Earn a Set of Binoculars!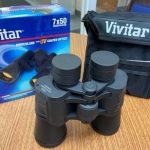 We want you to make an Online Direct sale before next Friday, October 23rd and earn a set of  binoculars! Many of you are doing a great job, but a lot of our Scouts that have sold in the past have not made a sale yet this year. Online Direct continues to be the safest way to sell and all you need to do is update your Trails End account and send it out to your family and friends! Make one sale this week and earn these Binoculars!
We will have binoculars for those scouts that earned them at the Scout Service Center located at 415 N. 2nd Street in St. Charles starting Monday, October 26th.  Thank you and happy selling!
Log in to your account at Trails-End.com to get started!
Final Order Distribution is Saturday, November 21 at Demar Logistics 320 Fullerton Ave. Carol Stream. 
Questions? 
Allan Boyce | Council Popcorn Kernel                              Ron Wentzell | Director of Field Services 
scouts.boycefive@att.net                                                    ron.wentzell@scouting.org