St. Charles Scout Shop
415 N. 2nd St. (Rt 31) St. Charles, IL 60124
View Map
Hours
Monday - Thursday 9am - 6pm Friday 9am - 5pm Sat 9am - 2pmSun Closed
Phone: 630 797 4614
Fax: 630 584 8598
Specialty Items in Our Shop
Planning an Eagle Ceremony? Celebrating your Scout's achieving the BSA's highest rank? We've stocked all the latest Official Eagle Scout merchandise. From invitations to party decorations to personalized gifts - you're sure to find the perfect memento for that brand new Eagle Scout at our St. Charles location.
There are great benefits to shopping at our Council Scout Shops
Shopping with us helps fund quality programs for the 14,000 youth of Three Fires Council.
We don't charge sales tax and you'll save up to 10.25%.
We have all the Official BSA supplies you need to outfit your Cub Scout, Boy Scout, Venturer and Explorer.
Don't pay big box store prices - we've got the hottest gear brands - including Osprey, Kelty, ENO, Eureka, Lodge and more.
You get personal help from professional Staff who know all the BSA Programs.
We take phone and email orders - pick them up or we can ship directly to you.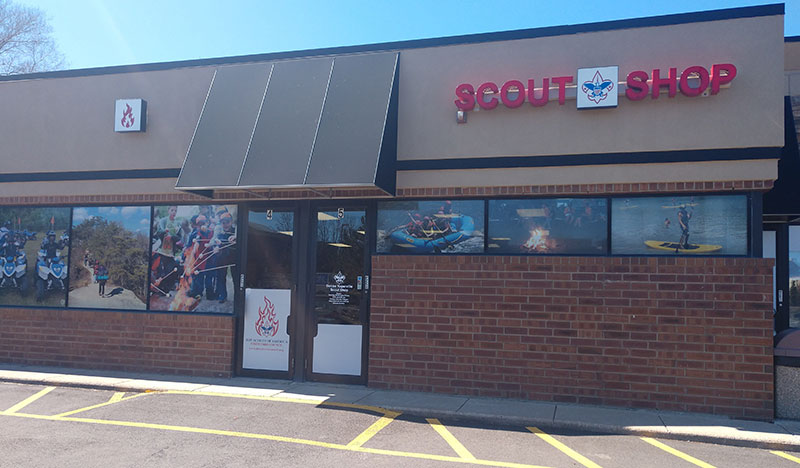 Naperville Scout Shop
4S100 Rt. 59 Naperville, IL 60563
View Map
Hours
M, W, Th & F 9am - 6pm Tu 9am - 7pm Sat 9am - 3pmSun Closed
napervillescoutshop@scouting.org
Phone: 630 791 8342
About Our Shop
The management of the Naperville Scout Shop has transferred over to the Boy Scouts of America national supply division. The store will make sure your uniform fits and your new backpack is properly sized for all your Scouting adventures. Visit the shop for sleeping bags, uniforms and more! Membership forms, event registration and advancement forms may continue to be dropped off at the Naperville location. You'll also be able to access your unit accounts for purchases and registrations.