Unit Resources  |  High Risk Merit Badges
To become a Merit Badge Counselor in Three Fires Council complete the following:
Background Check Authorization form (from the BSA Adult Application)
Required attachments:
Proof of completion of Youth Protection Training (e.g. a copy of the completion certificate from my.scouting.org)
Proof of completion of Merit Badge Counselor training
Any required certifications for high risk merit badges .
All these forms are required, even for leaders registered in other positions. The forms may be mailed or dropped off at the Three Fires Council Norris Service Center, 415 North 2nd Street, St. Charles, IL 60174 (or they can be dropped off at the Naperville Scout shop for forwarding to Norris). They may also be faxed to 630-584-8598 or scanned (pdf preferred) and emailed to the TFC registrar: TFCRegistrar@Scouting.org.
Merit Badge Counselor training is available in person at the annual Three Fires Council Training Academy or on-line at training.scouting.org under catalog->programs-> Scouts BSA->Merit Badge Counselor (use the same my.scouting.org login and password.)  The on-line training consists of 4 segments for a total of about 40 minutes.  Some of the segments overlap with those for Scoutmaster & Assistant or Committee training, so all 4 may not be required if completed previously.  Proof of completion may be a copy of the trained card, in the case of the in-person class, or screen shot showing completion (in the profile of my.scouting.org go to my training->Scouts BSA.)
The qualifications listed on the Merit Badge Counselor Information form must be applicable to the badges requested. "General interest" is not acceptable. Review the requirements for the badges being requested to make sure you are qualified: cooking requires camping and backpacking cooking experience; painting is utility painting not artistic painting; bugling requires experience with a brass instrument and is a separate badge from music.
Citizenship in Society requires completion of the BSA Diversity, Equity and Inclusion online course as well as attendance at a Three Fires Council training course for the badge. To sign up for the training course consult the Three Fires Council Calendar.  For more details on the requirements for this badge see the Citizenship in Society Counselor Checklist .
High Risk Merit Badges
Counselors for certain "high risk" merit badges (archery, canoeing, climbing, kayaking, lifesaving, motorboating, rifle shooting, rowing, SCUBA, shotgun shooting, snow sports, small boat sailing, swimming, water sports, welding, and whitewater) require specific certifications.
Three Fires Council does not recognize "troop-only" or "district-only" counselors.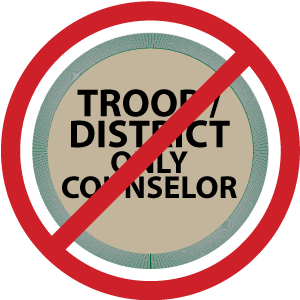 Unit leaders (scoutmasters, assistant scoutmasters, and committee members) have access to the list of all council merit badge counselors through Scoutbook (My Dashboard->select troop/crew->MB Counselor List). While it is possible for a counselor to choose not to counsel a particular scout, declining it must always be done respectfully.
The council limits the overall maximum number of badges for a counselor to 15 and the maximum number of eagle required badges to 8.
Processing for a new merit badge counselor application can take up to 2 months. Scoutbook sends an email to counselors when their badge list has changed. New counselors may first receive an email indicating an empty list of badges; an email showing the updated list of badges should follow in a few days. A counselor may use Scoutbook.com (same login and password as my.scouting.org) to verify they are registered and to see the list of badges they are registered for (My Dashboard->My Account->My Positions).
Counselors wishing to make changes to the badges they counsel must submit a Merit Badge Counselor Information Form to one of the locations noted above with the (A)dditions and (D)eletions indicated. The BSA adult application/background authorization/proof of YPT & MBC training are not required to update badges for an existing counselor. Merit Badge Counselor registration is renewed annually May 1 for counselors with current YPT and High Risk Certification (where applicable).
Reminders about Merit Badge Counseling:
Follow the requirements as stated – no additions, deletions or changes – the wording matters
Scouts must be tested individually, even if group instruction is used
All interaction must be done in view of a second registered leader or the scout's parent