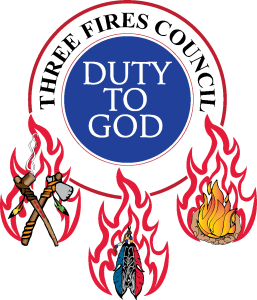 Hey Scouts! Have you done your Duty to God?
February is Three Fires Council Duty to God Month!
During the month of February, Scouts of ALL faiths are encouraged to make a pledge to pursue a Scouts BSA religious medal.
Earn an medal and wear your religious knot proudly!
Are you Christian? Catholic? Jewish? Muslim? Hindu? Check out all the amazing options available.
Find the medal program for You Here.
Each faith has developed religious emblem programs and they have been approved the BSA to be worn on the official uniform. The various religious groups administer the programs and most require Scouts to complete the emblem with a member of the clergy or a trained advisor for your faith.
Emblem programs for most Christian faiths are available through praypub.org.
Catholic Scouts in the Joliet Diocese can contact the Joliet Diocese Catholic Committee on Scouting for more information on how to get started. Visit the JDCCS website  or contact Karen Dix at 630.605.0169.
LEADERS, HELP US SPREAD THE WORD!
Get a flyer to distribute to your troop, religious emblem coordinator or chaplain, HERE.
Find the emblem for your faith and order the workbook for it.
Begin the requirements in the workbook with the help of a trained advisor or member of your faith as directed by your program.
When workbook is complete, get all signatures and approvals needed to order your medal.
Receive your medal and alert your troop advancement coordinator to get your religious knot and be recognized at your Court of Honor
Alert your place of worship so that you may be recognized at a religious service
READY TO GET STARTED?
A pledge is your personal promise to do something in the future. Can you promise now to complete your religious emblem in the future? Take the pledge!
Calendar
Saturday, February 5/Sunday, February-6 SCOUT SHABBAT/SCOUT SUNDAY
Scouts are encouraged to wear their uniforms to their places of worship
Feb 9, 2022, 6:30pm - 8pm PRAY classes, New Hope Community Church
See flier for details.
Saturday, February 12 MERIT BADGE UNIVERSITY
A session on getting started on earning your religious emblem is available
Saturday, February 19, 28 CHIPPEWA DISTRICT SERVICE OPPORTUNITY!
Chippewa Scouting for Food https://sites.google.com/view/chippewa-scouting-for-food/home
Saturday, February 26, DAY OF RECOLLECTION for Catholic Scouts visit the Joliet Diocese for more information
Saturday, May 7, MERIT BADGE UNIVERSITY At Camp Big Timber
A session on getting started on earning your religious emblem is available
Questions?
If you have any questions about obtaining materials or need guidance in completing your emblem requirements, please contact Marti Jernberg, Three Fires Council Religious Emblem Coordinator, at mjscouter@aol.com.