Dear Life Scout:
Congratulations on attaining the rank of Life Scout (link to TFC Letter to Life Scouts) You now have the opportunity to join the top percent of your fellow Scouts by successfully completing the requirements of the highest rank available to Boy Scouts, the rank of Eagle Scout. The Eagle Scout rank is a life-long achievement that has always carried a special significance.  College, business, the military, and community service leaders all respect an Eagle Scout for your accomplishment and what it represents.  Only about 6% of all Scouts BSA earn the rank of Eagle Scout
The Three Fires Council Advancement Committee developed guidelines to assist you. Be sure to read all instructions on the application and project workbook carefully and follow them exactly.  Errors and omissions cause unnecessary delay. If you have any questions, check with your Scoutmaster or troop committee advancement chairman. If they cannot answer your questions, your district advancement chairman will be able to help you.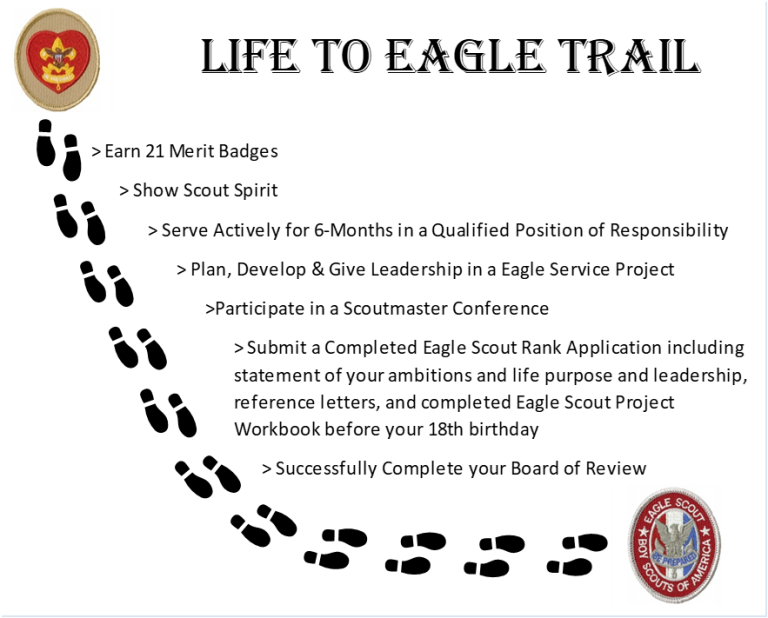 Our Council Advancement Committee regulalry holds the Trail to Eagle Workshop. This class is designed to help Scouts that are working toward earning the rank of Eagle and leaders guide and mentor scouts from Life to Eagle.
Some of the objectives covered are:
→ Requirements
→ Eagle Service Project
→ Eagle Application/Package
→ Boards of Review
→ Special Needs Scouts
→ Appeals